SMITE Relics In-Depth: Purification
Introduction:
One of the strongest relics in all of SMITE, Purification is a relic that many damage focused gods cannot do without. It is one of the two relics that is used as a safety net sort of relic. Whether this relic is off cooldown can mean life or death in many situations.
General Use:
Purification is a relic that is used to remove Crowd Control and stay immune to new Crowd Control for 2 seconds. This relic can be taken by any role, but is mainly picked up by the Middle Laner, ADC, or Jungler. In some cases of a Crowd Control heavy team it is acceptable for the Support or the Solo Laner to also pick up Purification.
Strengths: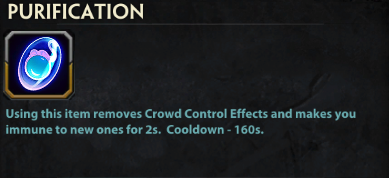 The primary use for Purification is to be able to cleanse any Crowd Control that might be affecting you. Knowing how to use this relic will save yourself in many situations. Against gods like Ares or Xing Tian this relic is a must have. Not having this relic against a CC heavy composition can lead to many extra deaths and as a result being put behind in farm.
Understanding what CC is the strongest on the enemy team is an important part of using this relic. Since Purification is on a 160 second long cooldown, you want to make sure that you use it when you think that you will be killed from the follow up from a CC. Knowing the difference between a CC that you can take versus a CC that will kill you is a crucial part of maximizing this relic's effectiveness.
Weaknesses:
Unlike most relics, Purification's main weakness is its cooldown. Such a long cooldown makes its user very vulnerable while it is on cooldown. CC ultimates like Are's No Escape or Xing Tian's Whirlwind of Rage and Steel can quickly lead to death if hit by them. Other CC like Sobek's Charge Prey or Sylvanus' Nature's Grasp can also lead being put very far out of position. As such, CC should be avoided if at all possible when you do not have Purification available.
One important thing to keep in mind when taking this relic is that not all CC can be cleansed with Purification. Notably all Knock-ups, Knockbacks, and most Grabs cannot be cleansed by Purification. Another Crowd Control, the Banish, has an issue with Purification. With the exception of Kumbakarna's ultimate Epic Uppercut, Banishes can be cleansed, but your character will still fall from where they were banished to. This is most notable with Freya or Janus.
Other Notes:
One technique to use with Purification is to use it to prevent a CC from hitting you before it makes contact. Being able to pre-cleanse some CC will help you from having abilities interupted during teamfights. This strategy could help to prevent an early death in a fight, meaning that you may be able to finish using your abilities or uses them a second time should the fight last that long. Only use this strategy when you are certain that you will be hit by the fore mentioned CC.
Closing:
Purification boasts itself as one the most powerful relics in the game when it is used correctly. Being able to save yourself from what otherwise be an inevitable death is what makes this relic so strong. Be sure that when you use this relic that you always keep track of your own cooldown on your relic as well as when the last time the enemy has used their Crowd Control. Knowing these two things will help you remain alive and well during every stage of the game. Always remember that while Purification can cleanse most CC, it cannot cleanse Knock-ups, Knockbacks, or Grabs that put you into the air.
Neil S